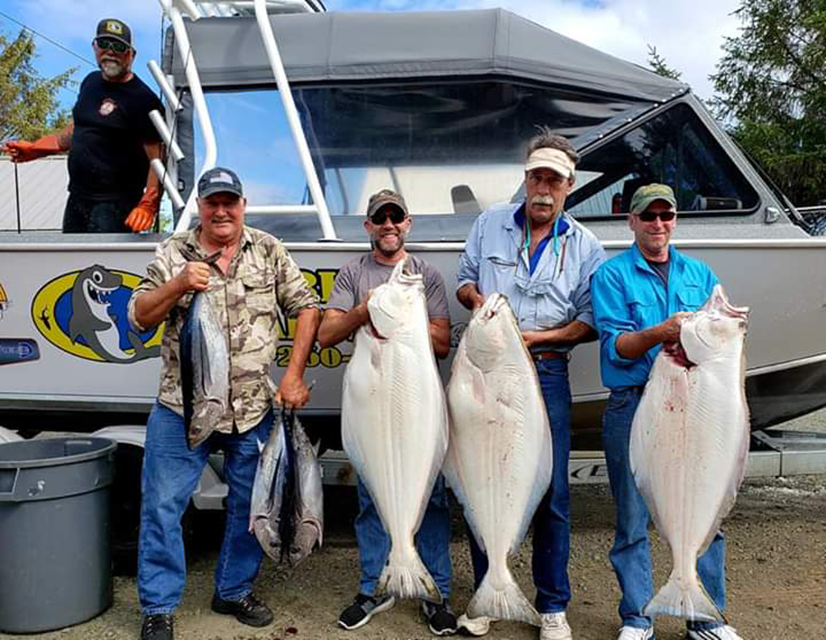 Catch Halibut and Rockfish on the same trip in 2022! Here at Sharky's, we use electric reels so it takes a lot of the back-breaking work out of reeling up the monster from the deep sea. Conventional gear is also available. Halibut caught off Oregon typically weight anywhere from 20 lbs. up to 125 pounds. Plan to meet me at sunrise at my charter office in Charleston for a cup of hot coffee and get a license if you need one. From there we head to the boat launch just a minute away from where we launch the boat and head out fishing on the ocean. Enjoy views of the rugged coastline and wildlife that call it home. Keep an eye out for whales as we head down the coastline to one of my favorite halibut holes where we will drift baits on the bottom searching for a bite. Once you have caught your limit of fish or the allotted fishing time has expired we will head back to port and the charter office. Once at the dock have your fish processed and packaged for freshness. The vacuum packing, freezing, and storage of the catch is available for an additional fee of around 20$ a limit. The trip duration lasts approximately 9 hours from start to finish. Halibut fishing off the Oregon Coast starts with a bang in May with the spring all depth season. Fish the offshore deep sea waters where the big barn doors live. We fish the Bandon Highspot or Heceta Banks which is about 25 miles from the port. Later in the summer the fish sometimes move into the shallows to be caught in the nearshore close as 3 miles. One of the best-eating fish in the ocean a halibut trip is a favorite of my customers. Once in a while we can fit in a Halbicore trip where we get tuna and halibut! (This is sold as a tuna trip and cost is $425) Included in the cost of the trip are tackle, bottled water, and bait. The cost of license and tag is not included.
$375 per person**

Add Crabbing for $75 for each person who would like a limit of crab**.
If ocean conditions prevent halibut fishing, the trip will switch to bottom fishing and the cost of the trip will be adjusted.
We have both electric reels and conventional fishing!
Book online now!
Be sure and call us well in advance so we can give you specific details on coastal fisheries and restrictions.
*Cancellations by customers with less than 7 days' notice and no shows at the dock by the customer on the day of the fishing trip will be charged the full amount of the trip that they have reserved. When you reserve a fishing trip we do not book anyone else for that time slot. Our seasons are short and there are not large numbers of people to draw on to fill last-minute cancellations. 
**Prices are subject to change at anytime due to increasing fuel costs