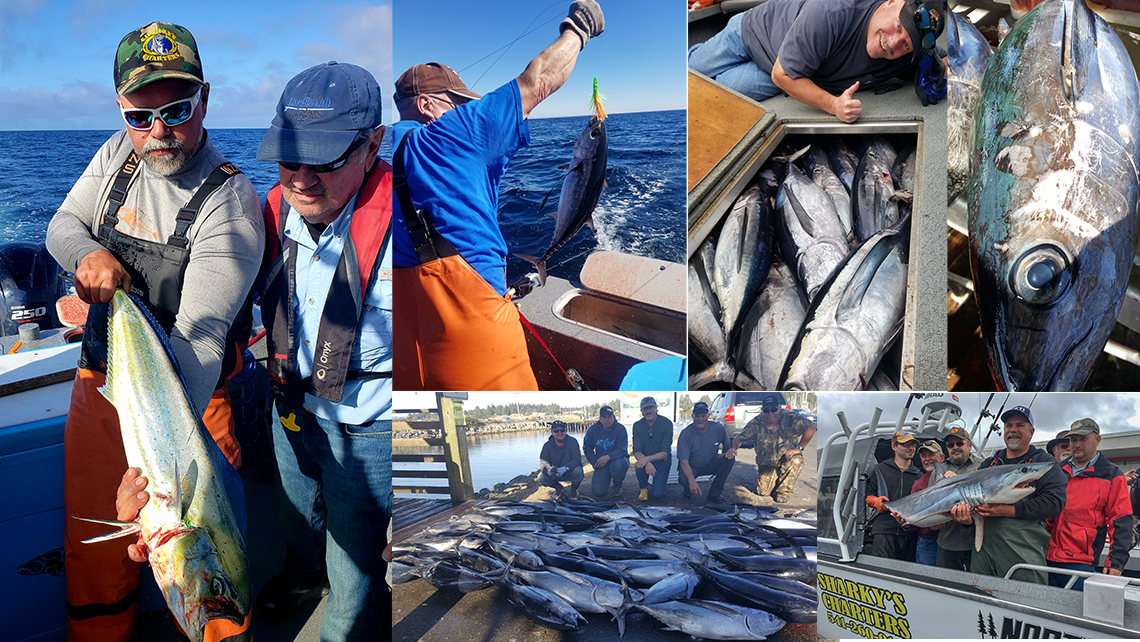 Albacore Tuna and exotics. This is a Full Day trip. Get ready for one of the most rewarding deep sea fishing experience of a lifetime on the Oregon coast. Every summer the highly migratory Albacore show up off Charleston from 15-50 miles. Tuna are one of the hardest fighting game fish known. Many days we catch over 20 for the charter boat so be prepared to take home a lot of meat in this fishery. Experience the blue water and creatures that live offshore in its warm waters. We go to where the fish are and sometimes that means we are up to 50 miles offshore but, with a top speed of 38 knots, that's no problem in our boats. Cost of processing fish is 6$ a fish to be filleted or we can drop it off at the cannery to be custom canned in just a few days. Albacore is a great fish for barbeque or canning. We troll mostly for the tuna but jigging and live bait may be an option depending on the season and boat. Ask for more details while you book. Dates from July to August fill up quick so make a reservation soon. If we are unable to go for tuna due to offshore weather or tuna migration we will take you fishing for halibut, salmon, or another fishery of the captains choice. Do not book the date if you are not agreeable to this.
$400 per person*

If the tuna are not within range, we will fish for other species and the price will be adjusted. Do not book the date if you are not willing to keep the date even if tuna aren't available.
Add crabbing for an additional $50 for each person who would like a limit of crab
Book online now!
Be sure and call us well in advance so we can give you specific details on coastal fisheries and restrictions.
*Cancellations by customers with less than 7 days' notice and no shows at the dock by the customer on the day of the fishing trip will be charged the full amount of the trip that they have reserved. When you reserve a fishing trip we do not book anyone else for that time slot. Our seasons are short and there are not large numbers of people to draw on to fill last-minute cancellations. 
**Prices are subject to change at anytime due to increasing fuel costs