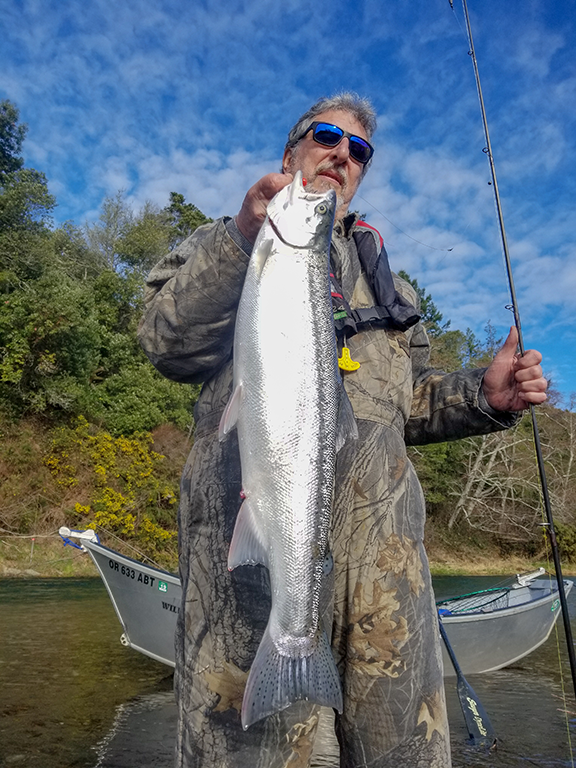 Winter Steelhead starts in January and ends in March. Plan to meet me in the dark at my charter office in Charleston for a cup of hot coffee and get a license if you need one. From there we head to the boat launch. The rivers I fish are approximately an hour to 2 hours drive away. Follow me or ride along with me to the river. Once we arrive at the river we launch the boat and head out fishing for the day. Drift down the river in my heated drift boat while enjoying the views of the rugged coastal mountains and wildlife that call it home. Once on the river, we side drift with floats and beads and bait, or back troll plugs looking for the bite. Once you have caught your limit of fish or the allotted fishing time has expired we will head back to port and the charter office. Once at the office have your fish processed and packaged for freshness. The vacuum packing, freezing, and storage of the catch is available for an additional fee of around 20$ a limit. The trip duration lasts approximately 8 hours from start to finish. This is a Full Day trip. Included in the cost of the trip are tackle, bottled water, and bait. The cost of a license is not included.
$250per person*

3 person maximum
Book online now!
Be sure and call us well in advance so we can give you specific details on coastal fisheries and restrictions.
*Cancellations by customers with less than 7 days' notice and no shows at the dock by the customer on the day of the fishing trip will be charged the full amount of the trip that they have reserved. When you reserve a fishing trip we do not book anyone else for that time slot. Our seasons are short and there are not large numbers of people to draw on to fill last-minute cancellations. 
*Prices are subject at anytime a fuel surcharge may be added to the cost of the trip when fuel cost increases are above 10% annually